Wayne Larson or "Wichita Wayne" is a Midwesterner gone Floridian and, yes, he'd love to surf with you. His background in journalism makes him an excellent communicator, which shines through in his important role of lead generation at CBIZ. He's passionate about sales enablement, bridging the gap between marketing and sales, and Alec Baldwin's version of WINNING.
Go on and listen, his enthusiasm about these intimidating topics is contagious.
Things to listen for:
—Finding, growing, and nurturing leads.
—Bridging the gap between marketing and sales and meeting the challenges for both.
—Why finding your B2B hyper-niche is important so you can focus on specialization.
—The process of the "Nurture Funnel" and what it takes to transform a lead to a client (see below).
—Why Glengarry Glen Ross is a better salesman than the Wolf of Wall Street.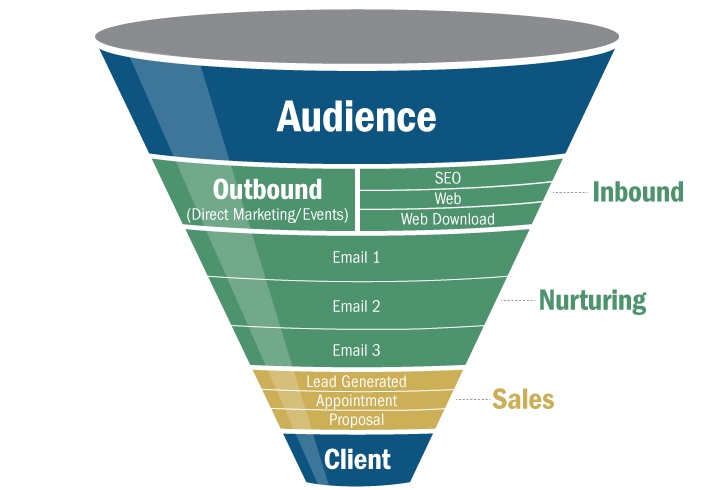 What's he talking about?
On marketing being the peanut butter to sales' jelly (4:53)
"We're not here to just do marketing for marketing's sake but we're here to marketing that will empower sales. Whether that's enablement, whether that's lead gen[eration]—but so often we see that disconnect between marketing and sales because we're not hearing each other."
The benefits of having a competitive spirit (14:10)
"Intellectually, I love winning. And I think that's a really really important thing whether you're an outside agency partnering with a sales group or a part of a team partnering with a sales group internally – we don't often talk about winning enough…Having a firm investment in winning is one of those ways that—again, extrovert, introvert, innate ability to talk or not—is the key that anybody can latch on to and really start to get commonality as they work with more and more sales people."
We can't do it all. Find your hyper-niche and run with it (38:45)
"How often have we been marketers or designers or even sales people who have been asked to be these generalists and be able to connect ALL the things? When we try to do that we get gaps along the way because we can't do all the things as one generalists…why not create that base and then start to input the specialists along the way?"
On keeping it personal (50:10)
"The world keeps getting more and more technologically focused and that's a fantastic thing…Nevertheless, building relationships, whether it's face to face, via phone, video chat or even over an IM, I think will become more and more important to running and being in a successful business. Because we're all human beings no matter what medium we're connecting on, and the further we get out of touch with that fact, the less success we'll have."